Initiating Great Connections is Easier with IceBrekr
Imagine attending an event, whose crowd contains a few people you'd probably like to meet, but you don't know them yet, or don't recognize them. How many pleasant conversations will you need to have with other people before you finally meet them –assuming you do meet before the end of the event?
IceBrekr takes stress out of networking. 
IceBrekr is a utility to help you make the kind of connections that matter among the people who are nearby. It can act as a virtual name badge, and enable stress-free introductions and quick sharing of contact information, without losing the human interaction that makes for a quality connection.
Real Connections Happen in Real Life
Networking Shouldn't Make You Panic
Networking can be exhausting – including trying to make an introduction! With IceBrekr you have a networking wingman right in your pocket. We can make it easier to break the ice! You can even show interest from within the app, and when convenient meet stress free and have a conversation in person. 
Social Networking, But Face-to-Face
With IceBrekr, virtual and physical worlds collide. Unlike other social apps, IceBrekr is used in real life where catfish can't swim, and where meeting real people is the main goal of our users.  When the connection is made, our mission is complete.
Make Quality Matches Easier
Other apps make you swipe aimlessly to meet people only to be left on read. With IceBrekr the goal is to make face-to-face connections with people right where you are. The ease of filtering but with the benefit of seeing real life vibes that make for a great connection.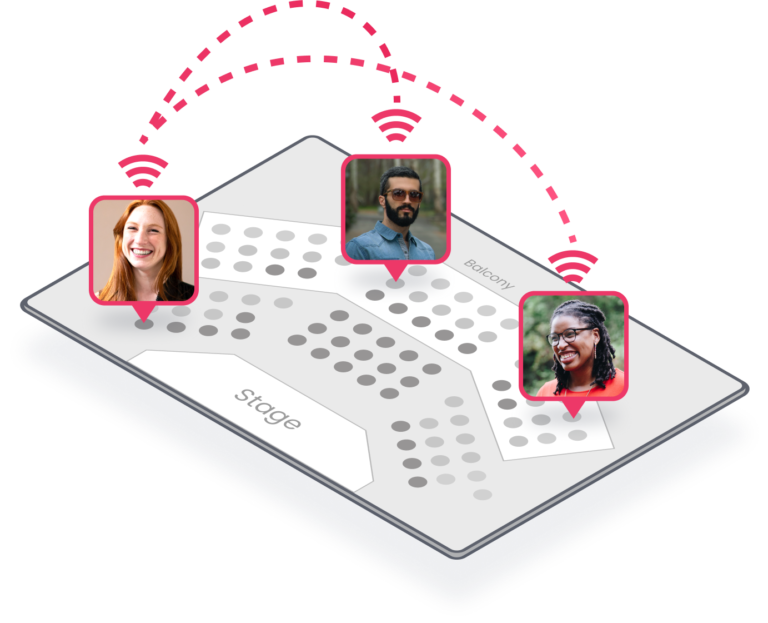 How to Get Connected With IceBrekr
IceBrekr uses powerful ping technology to help connect you with people who are in the same place as you.
Attending a conference or event? The IceBrekr utility can help you meet the key people you need for success. At a coffee shop on campus? Use IceBrekr to make more meaningful connections.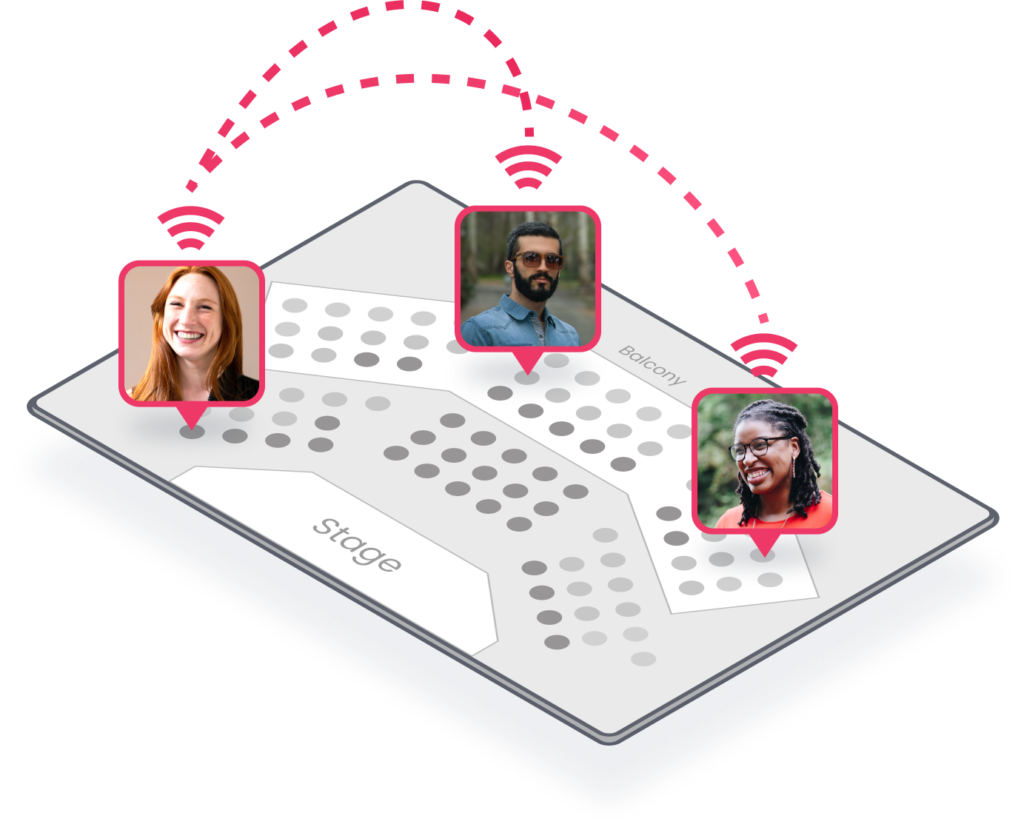 Let's look at how it's done: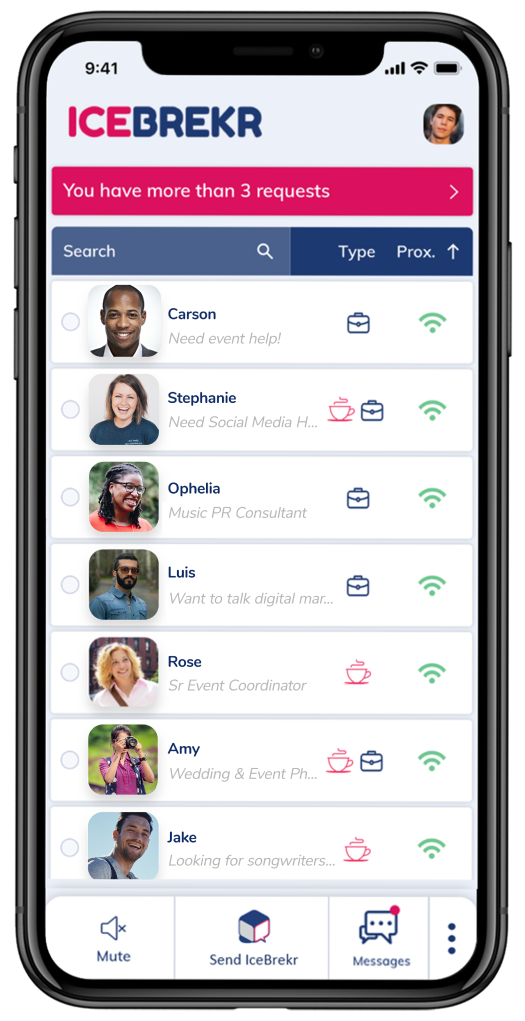 See People Nearby You
When you are ready to connect simply open IceBrekr and scroll through the profiles of people nearby. Their profiles will let you know their interests and the type of connections they are looking for. Turn on Filter settings in your menu button to get notified of users in your context whose profiles fit your keyword search.
Your Profile & Interests 
Your profile is where you will post a picture of yourself, a headline comment, or  your interests. Unlike social media profiles though, IceBrekr makes it easier to start a conversation in real life! Send an "IceBrekr" or add a star (only you can see) to a profile in your Discovery screen and if the other person also happens to star your profile, you will then both be notified of mutual interest.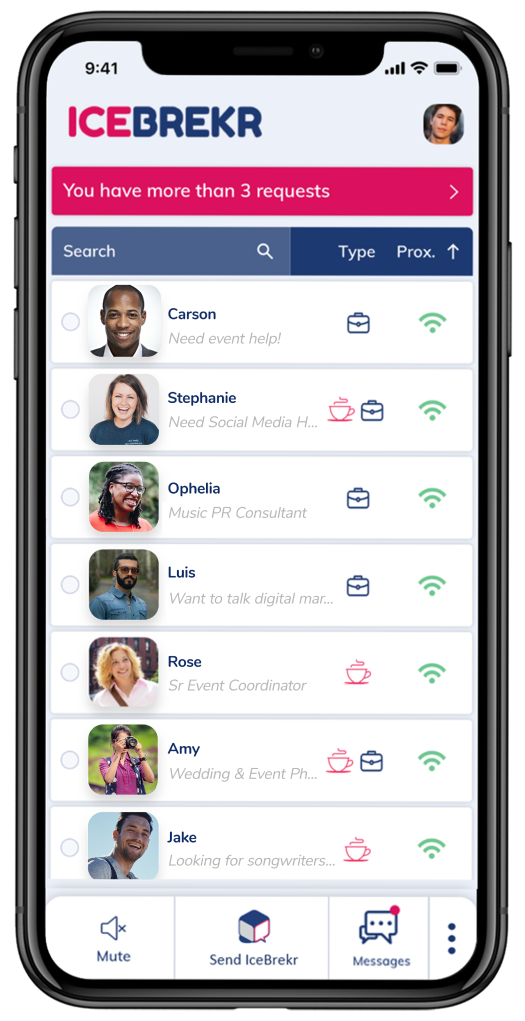 Send and Answer Connection Requests
See someone you want to connect with? Walk up and say "Hello", or if in context it's more ideal to send a message, break the ice easily by pressing the "Send IceBrekr" button. You will then be notified if they answer your request.
Show Your Availability
With easy toggle switches you get to decide when you're available and the type of connection you are interested in. Don't want to connect? There are block and hide options you can easily access too.
Users Are Loving IceBrekr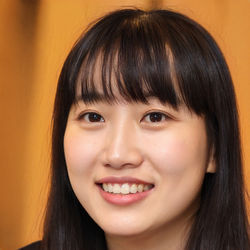 "Networking always makes me anxious, but with IceBrekr I'm able to more quickly connect with the people I want to meet, and if necessary make a quick digital introduction for a meet-up in person later. This simple utility reduces the stress of multiple high energy conversations before finding my connection!"
Julie N.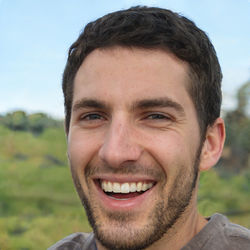 "IceBrekr helped our conference offer our attendees something different. It truly helped attendees make meaningful connections."
 
Thomas E.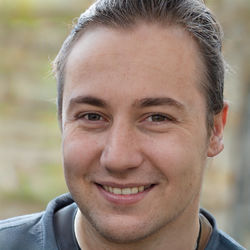 "I get to use my digital social skills and my real-life social skills to form a great stress-free connection in the places I already frequent. Making valuable connections with new people has never been easier."
 
Patrick C.
FAQ:

Want to learn more about how IceBrekr can help you make the connections that matter? Check out these commonly asked questions: